Adopt-A-Bulls
Meet our hug-a-bull, kiss-a-bull, love-a-bull Adopt-a-Bulls! If you're interested in adopting, please complete our application by clicking here, and a member of our Adoptions Team will be in touch. Thank you for your interest in adopting a Pit Bull in need!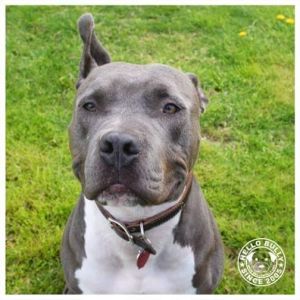 Pit Bull Terrier
Up-to-date with routine shots
Spayed/Neutered
This guy is the total package! He's smart, handsome, and oh so charming. Two year old Grayson is a clever dog who enjoys using his mind. Stuffed Kongs, food puzzles, and training sessions let him show off his smarts. Our volunteers have introduced him to clicker training and he's been doing really well with it! He also loves to take long walks and really check out the scenery, and he'd be a great running partner. He knows how to relax after a busy day and is happy to lounge around when all of his work is done. He'd do best with adults and teenagers because of his larger size. Grayson is looking for a foster-to-adopt or forever home. It's a great way to decide if you want to adopt permanently and if he's the right dog for you. We would provide you with a very handsome gray dog and all supplies during the foster period, plus the support of our Behavior Team to help make the experience as smooth and productive as possible. You would provide him with time and attention and a home without other pets or young children.
Adult, Male, Large